Are you looking for a fresh, modern vibe bridesmaid dress color to set off your big day? Well you may want to take a look at Yelure.co.uk's mint bridal party dresses. A chic and vibrant hue, mint bridesmaid dresses have proven over and over again to be a serious show stopper.
This color is a combination of green, blue and white and is the perfect combination of fun and sophistication. Mint green is refreshing and crisp. There is just something very calming about this shade. Mint bridesmaid dresses are ideal for tropical destination weddings, rustic weddings or an intimate backyard celebration. The best thing about mint green bridesmaid dresses UK is that they complement the bride and overall color palette easily.
Stunning Mint Bridesmaid Dresses That Are Perfect For Your Special Day
This ruffled maxi dress is dedicated to make your bridal party look lovely. Gauzy chiffon sweeps from the ruffled cap sleeves and this dress has a V neckline on the front and back. The skirt with ruffles cascading down the front adds a touch of sexiness to the floor.
Effortlessly cool and subtly seductive, this sleeveless chiffon dress is all you need for a show-stopping look. Floor length and hugs all the right curves, this dress has a V back and side slit with ruffles that move with every step. Your bridal party will be wearing this dress again and again.
A great option for cold weather weddings or when you want a modest dress, this luxe chiffon bridesmaid dress will offer all the romance to wrap up your big day. It features a V neckline and a matching V back, an empire waistband and 3/4 lantern sleeves. The flowing full chiffon skirt flows to the floor hemline to finish off this retro-inspired mint bridesmaid dress.
This is a floor length gown with a v neckline, spaghetti straps and cold shoulder draped sleeves. The high waistline incorporates pleats for a flattering fit and the back is finished with a tie back design. Perfect for channeling your inner bohemian, this is a cool bridesmaid dress with tiered A-line skirt.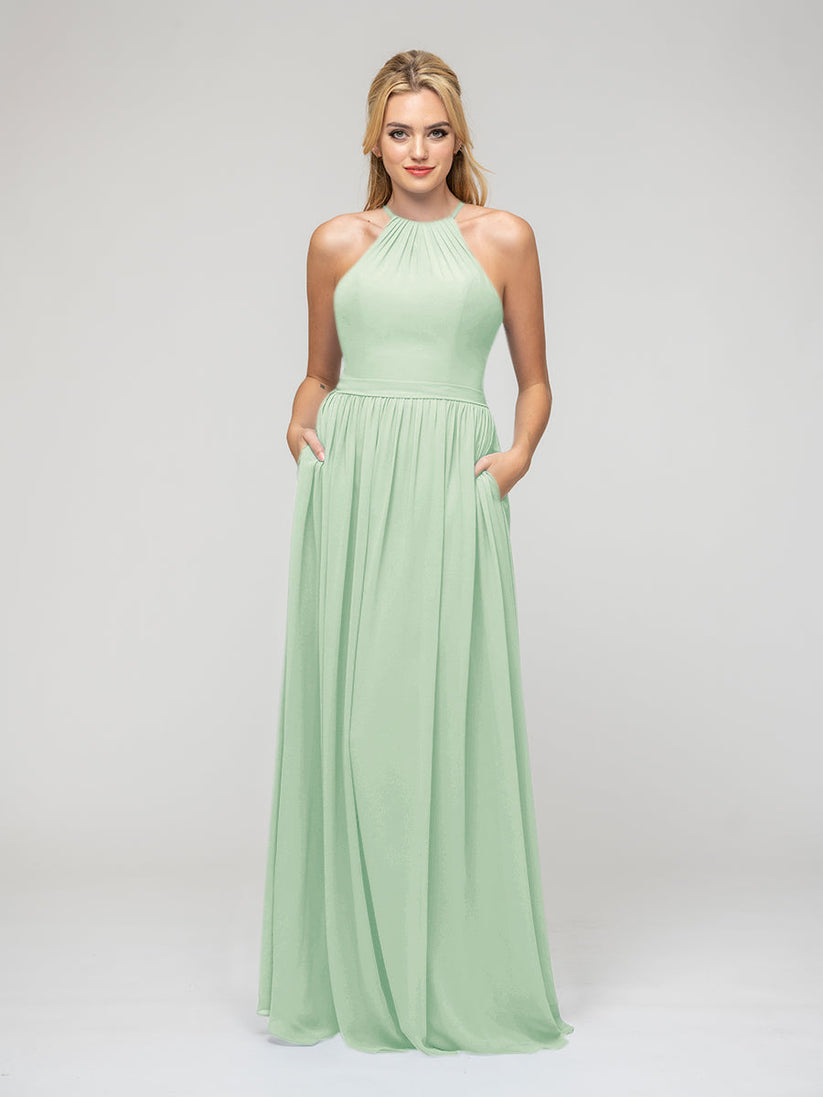 Your squad will stun in this mint halterneck maxi dress. Crafted from lightweight chiffon composition that shapes a halter neckline with subtle ruching and a fitted bodice, this elegant dress has an A-line skirt that flows to the floor length hemline.
Simple and affordable, this chiffon bridesmaid dress is the perfect strapless chiffon dress that will look great on every one of your girls. Featuring alluring ruffles bodice with sweetheart neckline, this mint bridal party dress has ruffled details that extend all the way down to the front slit.
Be a show -stopper in this sweet and structured yet flowy, maxi dress. A dainty one shoulder, a waist tie and a thigh high slit accent the femininity while the clean lines make this dress a timeless silhouette.
Whether your big day is a country-style ceremony or you are exchanging vows in a fancy ballroom, mint color bridesmaids will shine no matter the venue and theme. Want more show-stopping green that shines? You may check out Yelure's green bridesmaid dresses and sage green bridesmaid dresses that add a dynamic look to your wedding day.