Choosing what dresses your bridesmaids should wear can be an exciting yet challenging task. One of the first steps to help you select the perfect dresses for your bridesmaids is to take into account the overall theme and color scheme of your wedding. The wedding party dresses should complement the overall aesthetic and ambiance you want to create.
If you want a sophisticated, powerful and beautiful color for your bridal party, dark green is a good choice. It is a safe and gorgeous choice. Green represents nature and this color is linked to peace and tranquility. The green shade is ideal for an outdoor wedding on a summer's day or in the depths of winter. Green is a balancing color and is also an emotionally positive shade. Having your bridal party wear deep green bridesmaid dresses can level up the sophistication of your wedding and complement your wedding theme perfectly.
Darker green shades can also complement white wedding dresses, making a distinct contrast when you stand next to your bridal party. This shade also looks gorgeous in the photographs. Dark green bridesmaid dresses can look luxe or laid back and fit into a formal wedding or boho wedding. This color is universally flattering and anyone can pull it off no matter the skin tone and body shape.
Below are some of the hottest dark green bridesmaid dresses to keep under your radar and best of all, these dresses are under $100.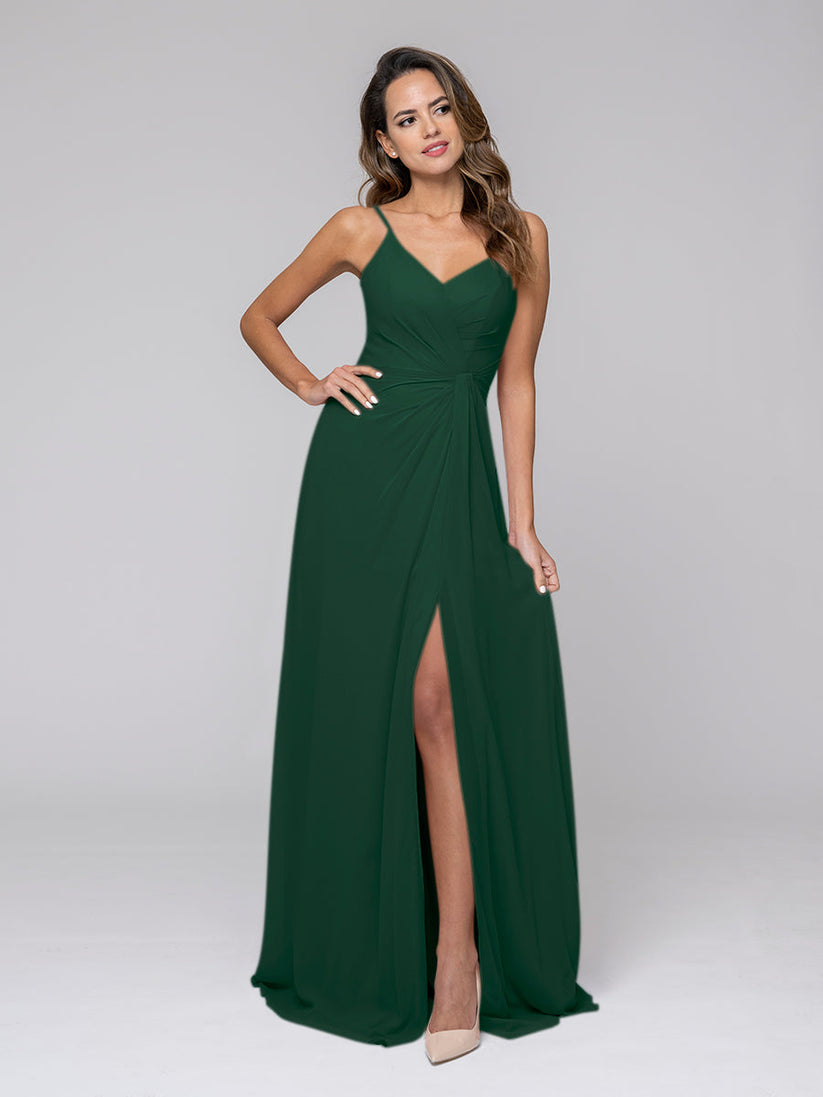 Make it a day worth reminiscing in this decadent dark green bridesmaid dress. Sculpted with fine straps along the fitted surplice bodice, this elegant piece features a V-neckline and an open back design. The dress is cinched around the waist leading to the stunning cascade of the pleated A-line chiffon skirt that reveals a slit on the front side as it flows down to a full-length hemline.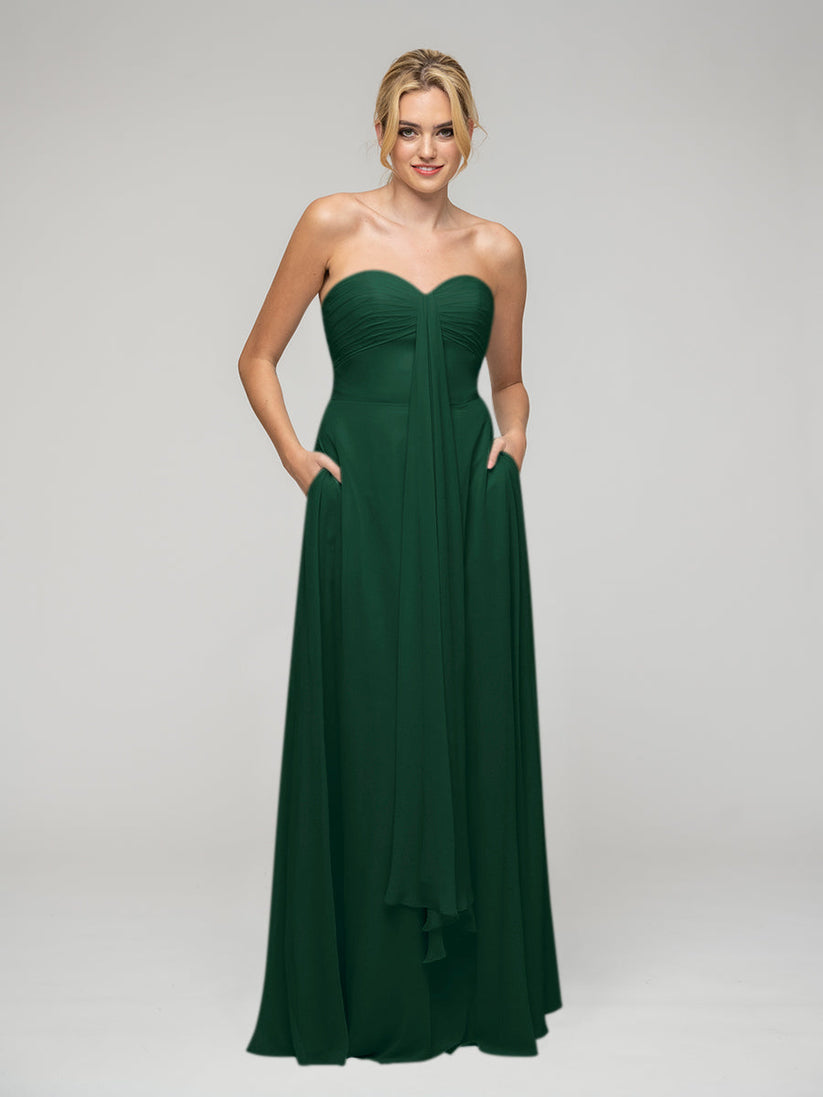 Your bridesmaids will walk with confidence wearing this deep green chiffon dress. It fashions a strapless, sweetheart neckline with a streamer design on the chest. The full length A-line silhouette flatters every curve and leads the skirt away for more depth and flow.
This dark green bridal party dress incorporates modern details into a classic silhouette. Featuring a halter neckline with a draped bodice and a zipper back, the skirt forms a flattering A-line silhouette and runs at full length hem.
The sleeveless, finely ruched crisscross bodice has a V-neckline that is held in place by fine straps on the shoulders. It has a crisscross back and the A line skirt features lavish fine pleats that fall to a full length hemline. Your bridesmaids will definitely make a statement wearing this minimalist dress.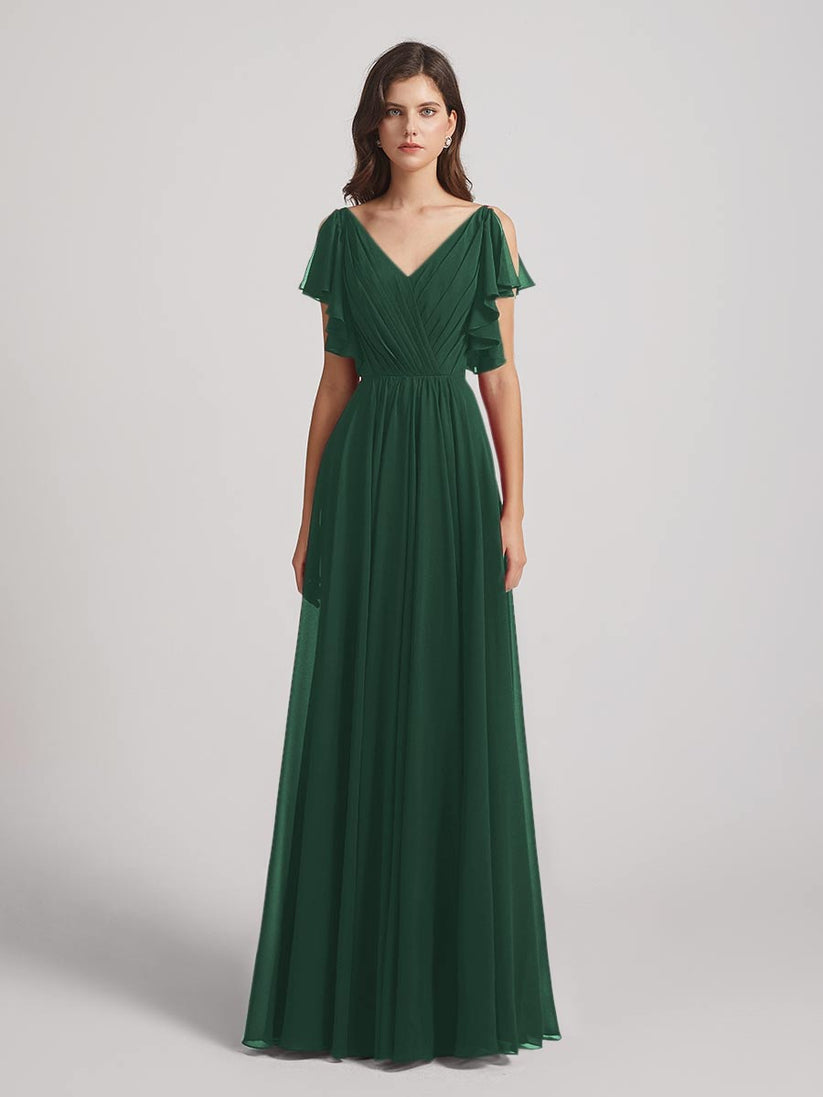 This simple and elegant dark green bridesmaid dress takes on a vintage vibe. It features a deep V neck, open back and fitted bodice flatter the waist, while the elbow length flutter sleeves offer flattering arm coverage. The flowy skirt flatters every curve.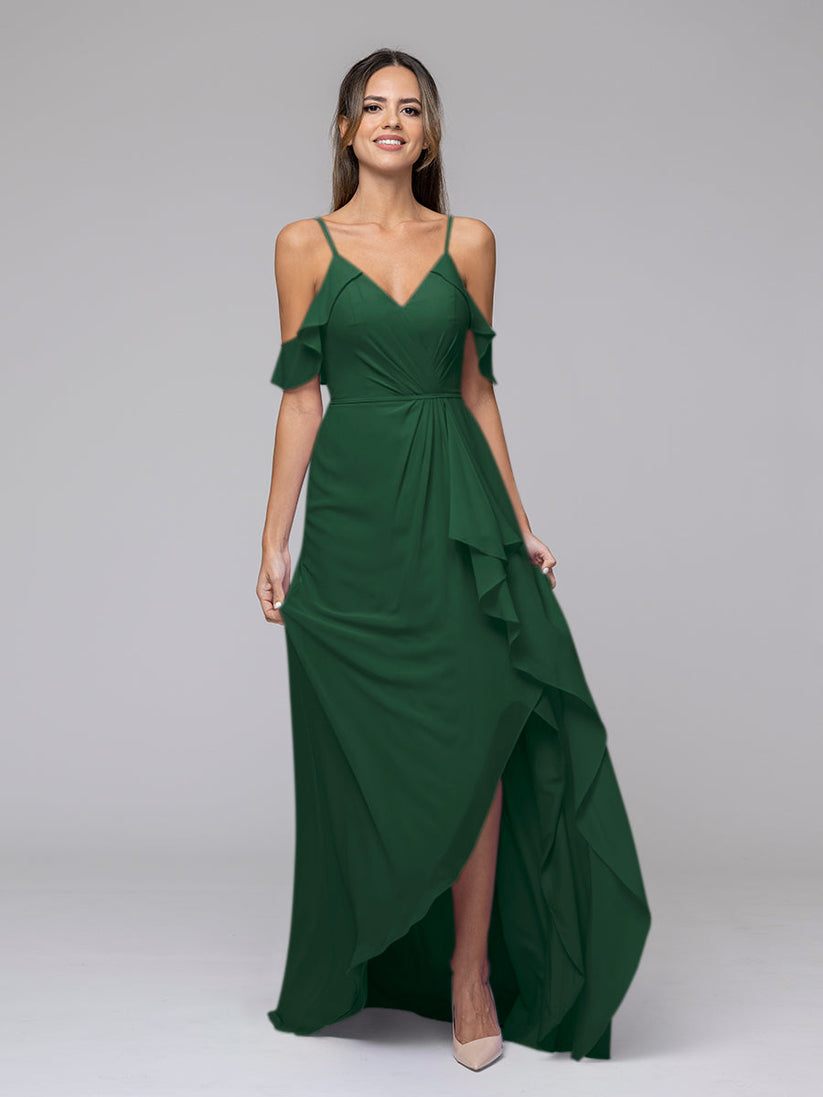 Showcasing a pleated and ruched bodice, this stunning gown features a V neckline and ruffled cold shoulder straps which leads to the open back. The skirt is accented with a side slit with graceful ruffles and flourishes a full-length A-line silhouette.
This one shoulder dark green chiffon bridesmaid dress features clean styling and subtle details that make it a beautifully elegant addition to any wedding party. The skirt is cut slim through the hips for a flattering A-line silhouette while the waist is embellished with a belt. The asymmetrical one shoulder frame the back and show off your shoulders for a stunning modern look. 
Shop Yelure's UK dark green bridesmaid dresses that will add the perfect touch that makes your white dress pop. 
Check out our other green bridesmaid dresses.