Color palettes are an important part of planning for a wedding as color has a way of evoking emotions and aura. It is no easy task to choose a color palette for a wedding. There are many questions like what colors complement which season? What color also complements the bride and will look gorgeous for bridesmaids? All these questions may be stressful but do not fret because there is a shade that works with almost everything and it is none other than citrus.
Nothing says summer more than the zesty combination of oranges, limes and grapefruits. This cheerful summery color is perfect for a couple who embrace the bright side of life. Citrus colors are a delightful addition to any wedding lineups. They are a sight to behold when used for centerpieces, wedding favors and floral arrangements. Citrus is also fun and stylish when the wedding party is all decked out in citrus bridesmaid dresses. The best part is that this fruity shade looks good in photos too.
Having your leading ladies in citrus bridesmaid dresses is a great way to make your bridal party unique. You can dress your bridal party in a combination of yellow, orange, green and coral dresses. This gorgeous fusion of shades for bridesmaid dresses are absolutely beautiful.  There are so many different ways to wear citrus bridesmaids dresses. You can choose the same style dress in different citrus colors or have your squad wear the different bridal party dresses in one zesty shade.  Below are a few options from Yelure.co.uk. These gowns are made from high-quality chiffon and are designed to be delicate, gorgeous, and universally flattering.
This is a flirty, chiffon bridesmaid dress that features a chic sweetheart neckline with spaghetti straps and a sexy tie back style. It has a ruffled slit that flows down the side of the skirt to create a high low hemline.
This is an understated bridesmaid dress featuring features a straight across neckline, delicate spaghetti straps, and an open back. The fitted sheath soft chiffon showcases a front slit for a flirty look.
Look charming in this flowy and feminine chiffon bridesmaid dress. The off-the-shoulder dress with sweetheart neckline and flutter sleeves exudes a romantic look
You can also go for a mismatched style with one color for your bridesmaid dresses but in different styles.
Made with luxe chiffon, this exquisite dress features thin straps that are joined by the off-the-shoulder drape sleeves supporting the bodice. The sweetheart neckline is designed with elegant pleat details and it also showcases a tie back. The show-stopping floor-length tiered maxi skirt is styled with side pockets.
Have your bridesmaids looking classic and elegant in this luxe chiffon dress that features a deep V-neckline surplice bodice with pleats. The delicate spaghetti straps lead to a crisscross back while the skirt flourishes with a full A-line silhouette skirt.
Elegant and refined, this full-length lux chiffon dress makes a stunning statement at the wedding. A keyhole halter neckline with ribbon on the back blends beautifully with a pleated A-line skirt. This dress will gracefully highlight the curves of the body.
Another option is for your bridesmaids to wear a mix of dresses in different citrus shades and styles like below. These gowns are made from high-quality chiffon and are designed to be delicate and universally flattering. This citrus lineup is a gorgeous fusion of coral, green, burnt orange and yellow for the most vibrant and cheerful wedding ever.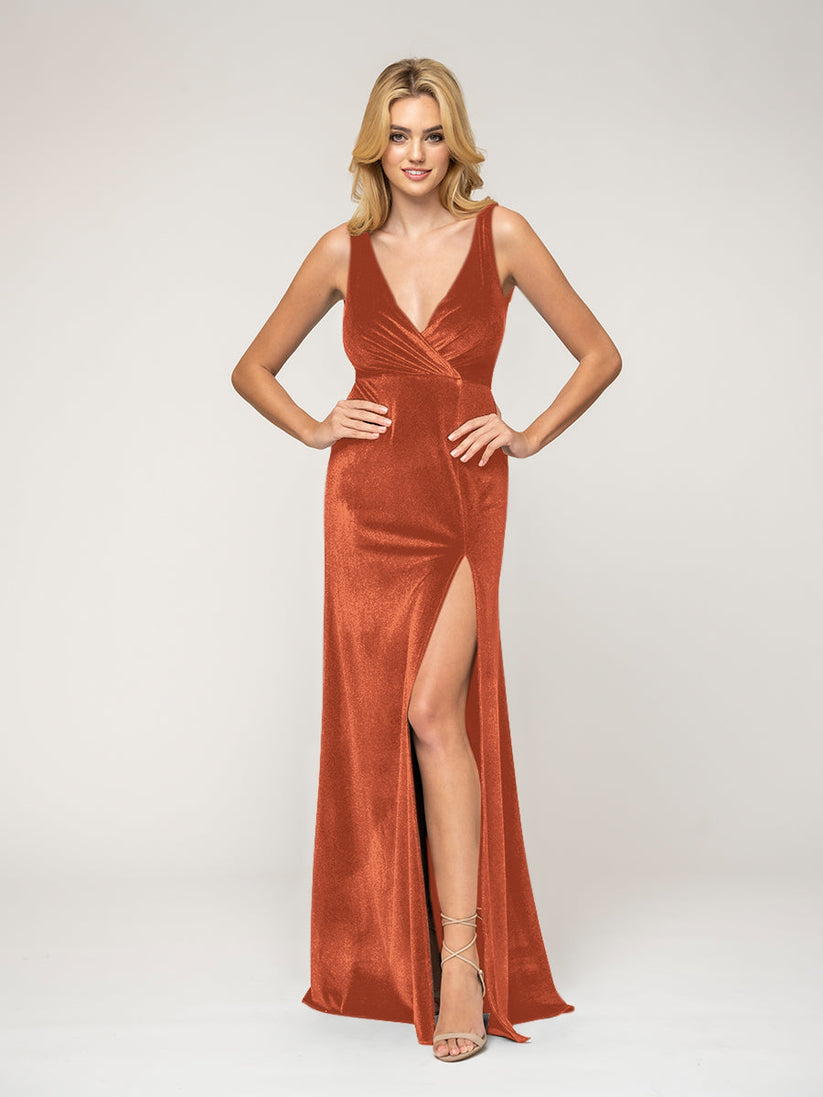 Whether you are looking for an elegant option or something a little more fun and stylish, Yelure.co.uk has got you covered. With a wide range of sizes and colors, it is easy to find the perfect look for your wedding.