Nothing spells romance like the color red. Therefore, it is only natural that brides are more inclined to choose this bold shade when picking out the attire for their bridal parties. Whether it is scarlet or garnet, red bridesmaids' dresses are a beautiful, flattering choice that goes well with any season or style. Another plus point is that outfitting your bridesmaids in a statement color like red will ensure that they won't blend into the crowd.
Red is an eternally feminine color that not only works for every kind of occasion, from glitzy formal do to a beach wedding, this color is also flattering for bridesmaids of all ages and sizes. Red bridesmaid dresses are totally re-wearable so your bridal party will thank you for choosing it. If you are looking for a more classic aesthetic, there are timeless A-line options with comfortable, flattering straps. If you want to keep your bridal party comfortable in the summer, there are light and airy choices available that will look great. For fall nuptials, you may choose some red bridesmaid dresses with sleeves.
Whether you are looking for something demure or sexy, bold or subdued, you are bound to find a red bridesmaid dress that fits the bill at Yelure.co.uk.
Totally unique and feminine, this red chiffon dress makes a gorgeous bridesmaid dress. It features a surplice bodice that creates a soft wavy look with a plunging V-neckline. The sheath wrap skirt with a sexy thigh high slit completes the look.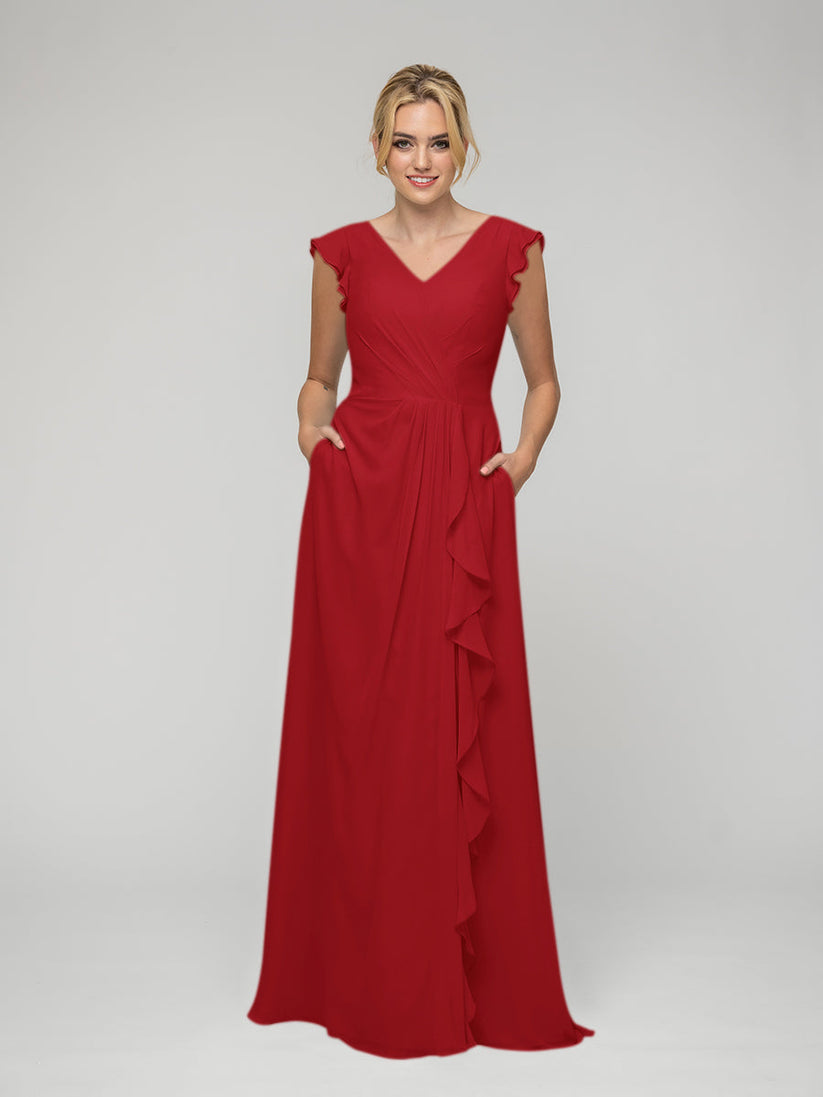 This chiffon dress is a perfect way to elevate the look of a red bridal party while still adding a fun pop of color. Elegant and charming, it is made with top-grade chiffon fabric and features dazzling details like a V neck with ruffled sleeves, a matching V back and floor-length A-line silhouette. This dress will move effortlessly with every step.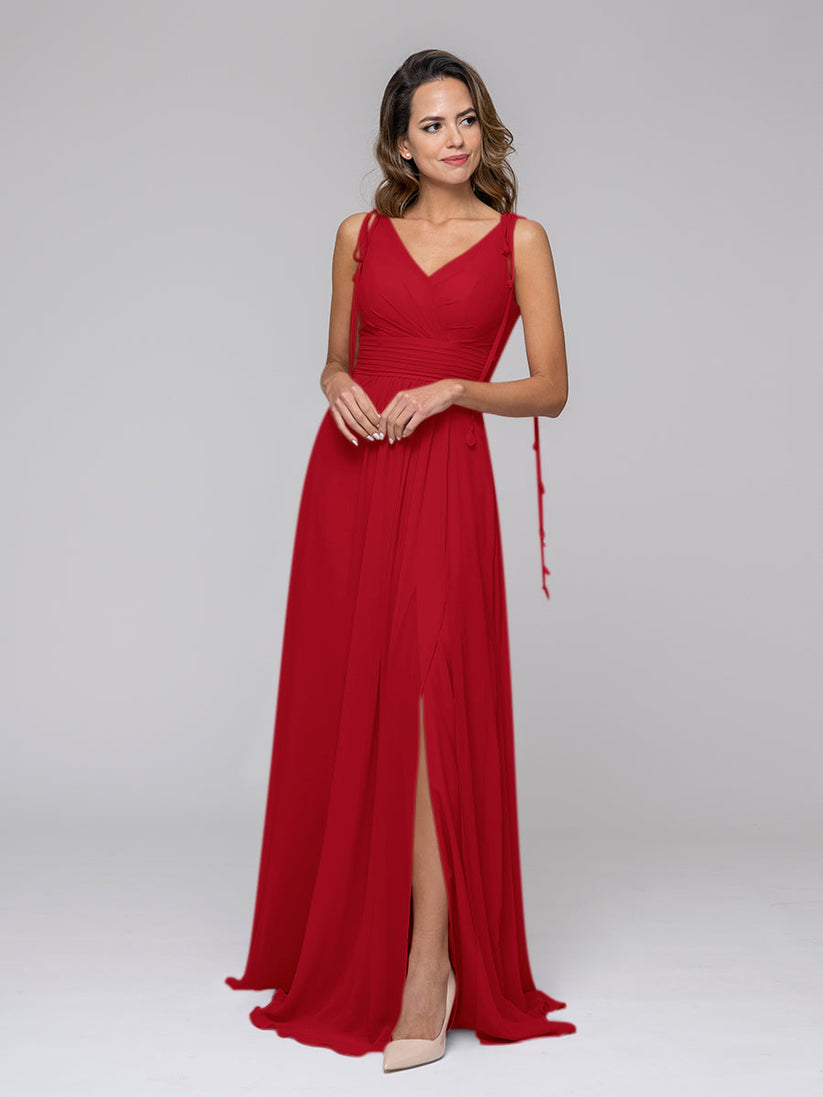 Your leading ladies will command attention with this red chiffon dress. Designed with a pleated bodice and empire waist, it has a dangling tassel strap from the shoulder tie that caress the arms gently while the flowing A-line skirt with slit cascades to the floor.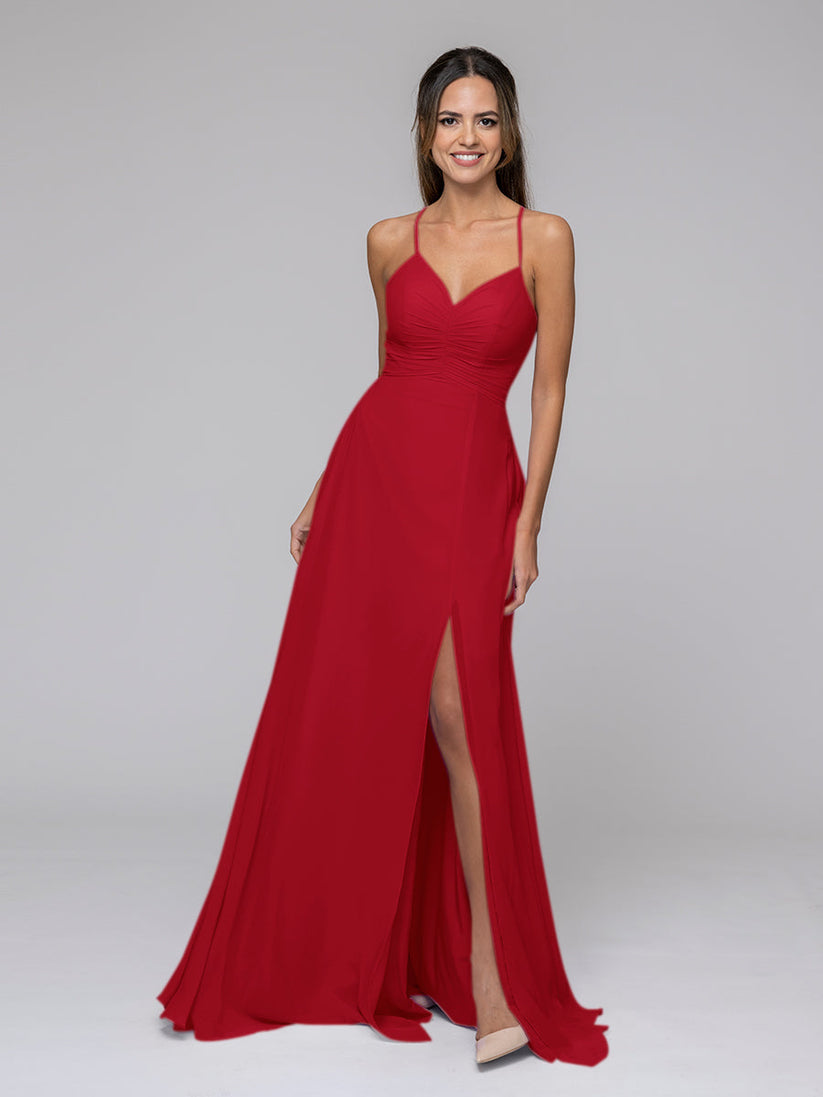 This red bridal party dress looks like a classic in the front but a party in the back. It has a slight ruching detail along the sweetheart neckline and towards the center for a flattering effect. The spaghetti straps follow into a stunning, crisscross back detail for a unique touch. The A line skirt complete with a slit detail makes it a head-turning style.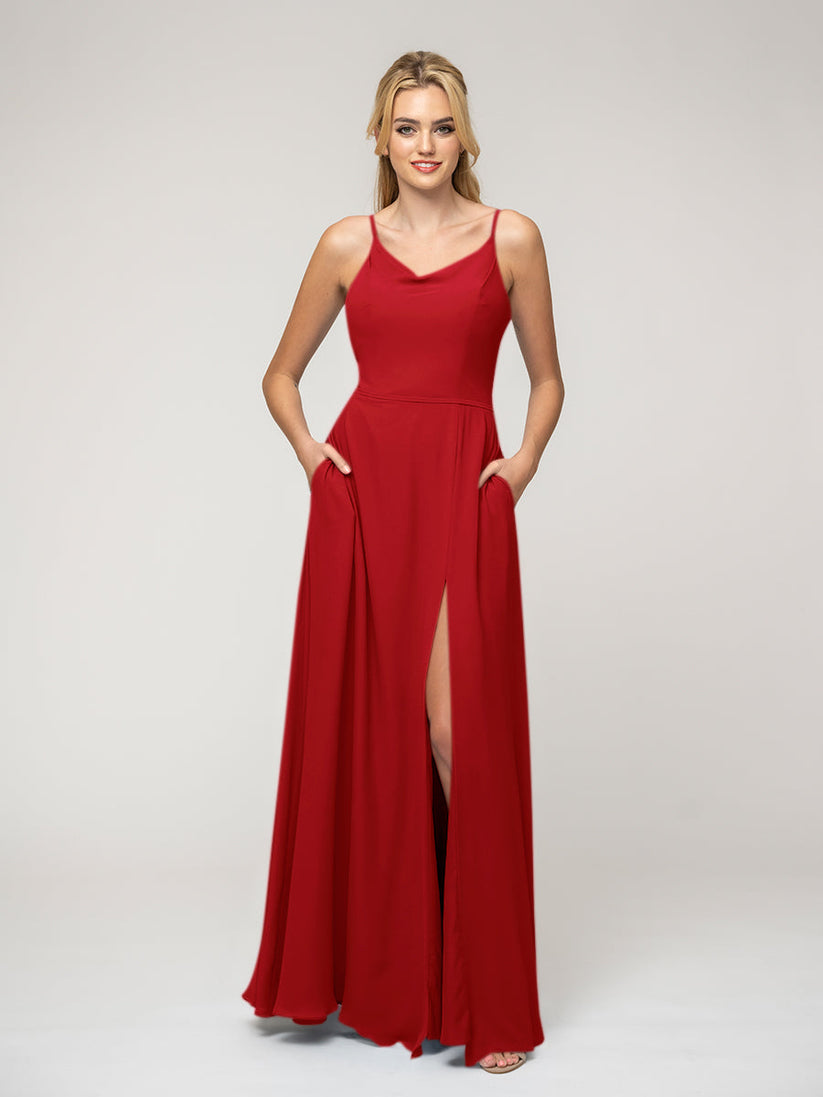 Having your bridal party wear red dresses is the perfect way to achieve a luxe feel on your big day. This gorgeous A-line gown with cowl neckline features an open back style and supported by thin spaghetti straps.  The beautiful flowy skirt with a front slit cascades to the floor.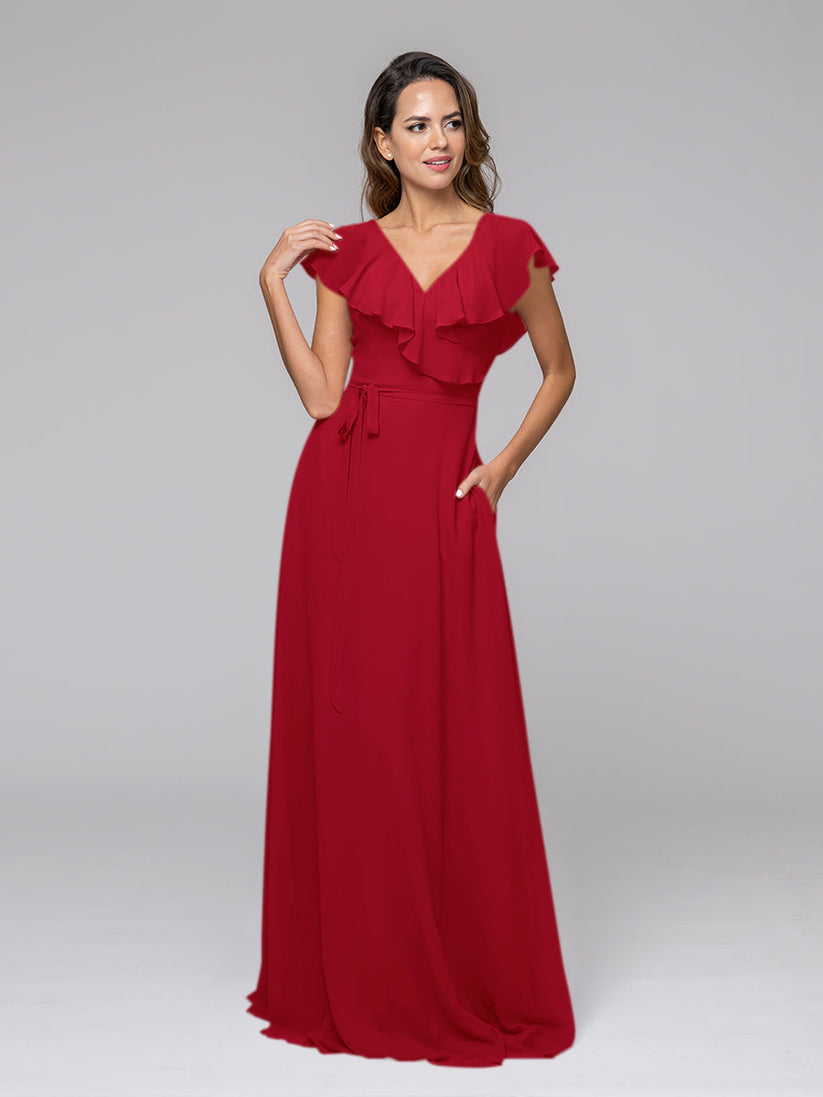 Feminine and fun, this bohemian-style bridesmaid gown will definitely slay. It features ruffles on the bodice with a classic V neckline, fluttering cap sleeves and balanced with a long flowing A-line skirt. The woven chiffon fabric keeps the dress looking fresh and lightweight, making the walk down the aisle and the dance floor a total breeze.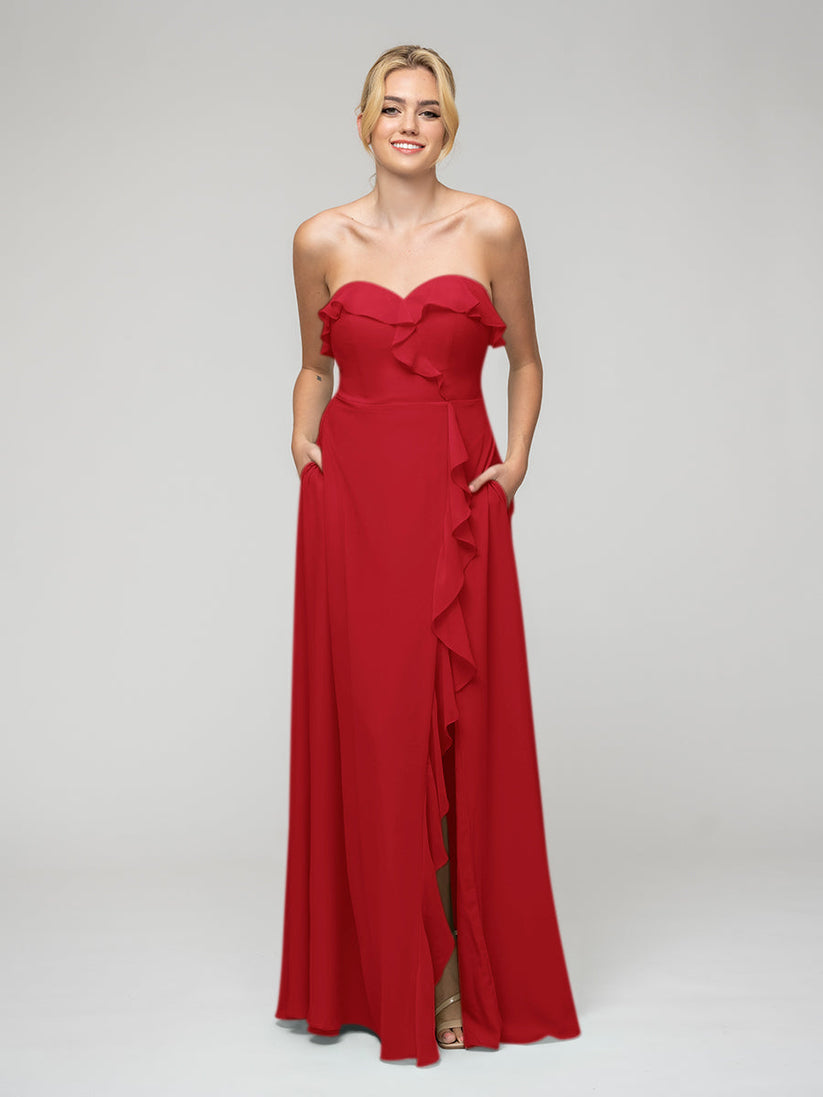 Flirty and oh-so-chic, red bridesmaid dress is simply gorgeous. Featuring a strapless style with ruffled bodice and a sweetheart neckline, it has ruffles extending all the way down to the front slit. This A-line skirt flows perfectly into a floor-length. This dress is the perfect combination of romance and elegance.
Yelure's collection of red bridesmaid dresses helps to amplify these qualities and add a vivacious and energetic burst of color to your bridal party. This collection features a variety of dresses to suit any woman and these dresses exude sophistication and sexiness in equal measure.